Dancing Robots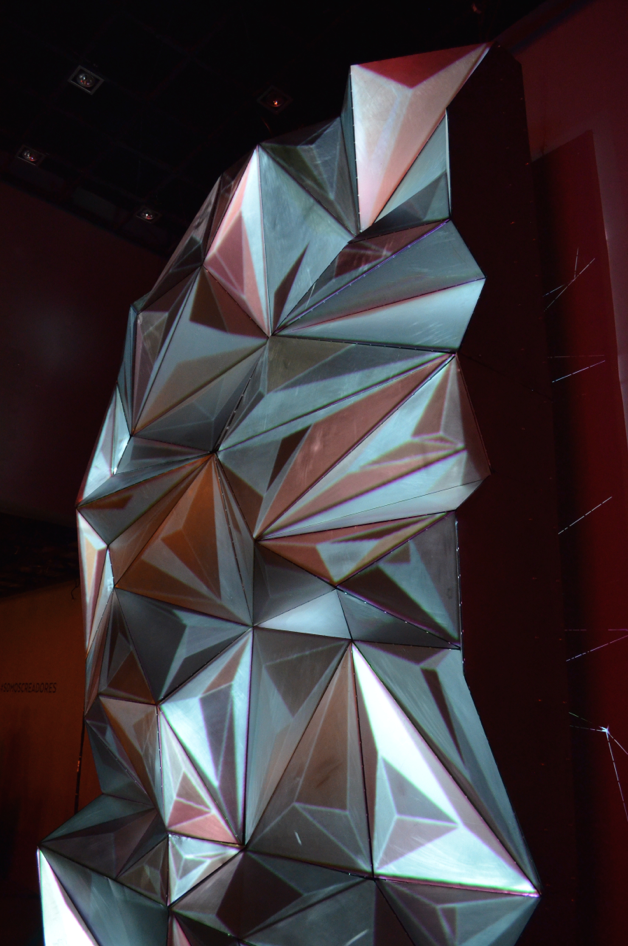 Dancing robots, is a piece commissioned by Chrysler Mexico which uses of emerging technologies to represent the car "Chrysler 200". The piece is a 5m x 3.2m sculpture formed by 68 steel triangles which weighted around 600kg. The sculpture is inspired by the robotic arms assembling cars from the Detroit's Chrysler plant. Robotic arms movements are mapped to thew physical steel triangles.
We wanted the audience to be able to connect piece either by touching the sculpture or by hearing the music piece. The live visuals react to the small vibrations of the sculpture, touching the piece the live projecting changes forms and the sound becomes more immersive.
We developed a custom application and hardware that detected the sculpture vibrations This was done by connecting several piezoelectric at the back side of the sepulture. The href="http://libcinder.org/">Cinder/C++ application was designed to add new points and triangles at any given location of the projection, this allow us to dynamically change the projecting configuration easily. Inside of each triangle there is a three more points which together form a Delaunay zone triangulation. This triangulation gives the impression of a mosaic painting to the sculpture.