A-pops: an urban playful learning experience
A design project done in collaboration with the MIT Media Lab and the Laboratorio para la Ciudad (Laboratory for the City), Mexico City's experimental office for civic innovation and urban creativity, A-pops is a networked learning experience across Mexico City that supports young learners in engaging in emergent and playful opportunities in and beyond their local communities. In line with the "Playful City" goal, this project aims to embed playful learning experiences across Mexico City that are creative, collaborative, and public, by leveraging existing public spaces throughout neighborhoods and micro-communities across the city. By embedding a variety of playful learning experiences across a variety of locations, a wide range of learners have the ability to easily and socially engage in transformative experiences that support key skills in design, collaboration, creativity, programming, and learner agency.
Mexico City, like many global urban centers, has millions of children who needbetter access to quality learning experiences and environments. Tremendous strains, of large-scale growth in enrollment with simultaneous drop-out rates at the secondary level, have placed tremendous pressure on the Mexican education system. Providing rich and meaningful experiences early in life is critical to long-term educational success. Alternative, accessible experiences are needed to engage learners of all ages and encourage them to take agency over their own learning. Informal learning is already happening all around the city, and highlighting the inquisitive and playful nature of engaging with various events and aspects of the city better demonstrates the value of these experiences.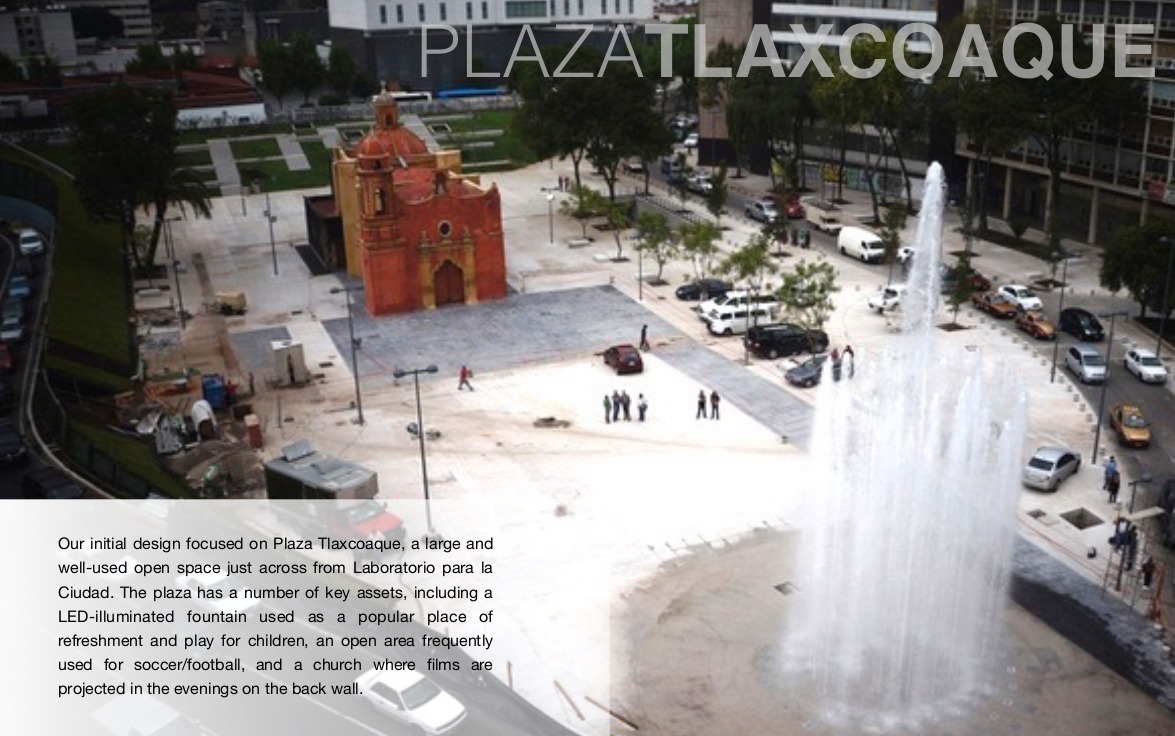 The Fountain at the front of the plaza is a delightful feature of the space and very popular amongst young people. With existing embedded colorful LEDs, the fountain activities intermittently throughout the day and plays in a random pattern—a perfect opportunity to give users agency over the function of the fountain. The surface of the fountain is made up of concrete blocks divided up in concentric circles, with the LEDs and fountain jets embedded in each. For this installation, we will embed pressure sensors in blocks of the outer ring, each of which corresponding to basic programming commands.
Jen Groff, P.hD. Candidate MIT Media Lab
Lety Lozano, Laboratorio para la Ciudad
Thomas Sanchez Lengeling,Reseacher MIT Media Lab, City Science Group
Guillermo Bernal, MIT Media Lab, Fluid Interfaces
Mina Soltan MIT Media Lab Reseacher